Rubyx Visa Credit Card:
It is that type of card that enables you to use the services used to purchase goods and services. It provides you with a credit facility provided by the bank that allows customers to borrow funds with a bill and interest attached to them.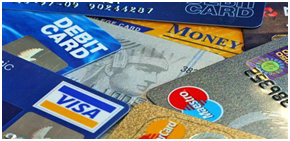 If the customer has purchased anything with the credit card, he has to pay a certain amount of interest on it. Each bank has a different interest rate based on its terms and conditions. It has many facilities, such as those provided in department stores, while travelling, hotel bookings, flight bookings, etc. The cardholders also enjoy discounts by purchasing a single product with this card.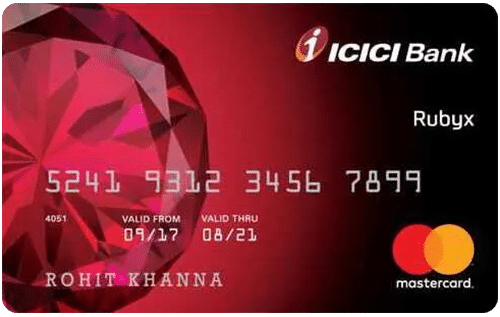 This card is only available at ICICI Bank; no other banks have this special card. This card has many benefits and privileges, which are mentioned above. This is a unique credit card that contains many rewards for any payment or transaction. It can be used by any salaried person or businessman. The cardholders enjoy the benefits and securities at a premium way. It can be used to make secure online transactions and PoS transactions without any worry of a cyberattack or fraud.
There are two types of cards:
Debit Card
Credit Card
It is a type of plastic card that is used to withdraw money from the cardholder's bank account without any interest being paid on it. Nowadays, it is used to deposit cash in the account holder's account without entering any data in the deposit slip, and you also don't have to stand in the queue at the cash counter by using an ATM (automated teller machine).
It is a type of financial tool offered by a bank as a type of loan that has a credit limit on it and can be accessible to salaried individuals and businessmen.
Benefits of Rubyx Visa Credit Card:
It is available only to a specified person who has an account at a particular bank. Those who meet these terms can enjoy the benefits of this credit card.
Joining Benefits:-
After completing or making the payment of the joining fees, many banks give rewards, and the gift is delivered within 30 days to their respective homes.
Customers must pay a joining fee of Rs. 3,000 at every bank. The customer must pay the annual fee after one year of using the card. The annual fee is Rs. 2000, plus it contains service tax. If the customer spent over Rs. 2,50,000 in the previous year, then this fee is waived.
Secure Transactions with Chip and Pin:
It comes with an embedded microchip that protects against theft and duplication. The next level of protection comes from the PIN, which has to be entered by the cardholder for every Point of Sale (PoS) transaction. Online transactions are also a next-level protected way to make transactions by using Verified by Visa (VbV) services.
Cardholders can enjoy a surcharge waiver of 2.5% on fuel transactions done at any petrol pump in India, up to a maximum of Rs. 4000.
Features of Rubyx Visa Credit Card:
Cardholders also have the option of changing their reward plan every six months based on their spending habits.
These are some common transactions in which rewards are to be given:
In supermarkets, grocery stores, department stores, or any other store, rewards are to be given.
Bookings made online, through agents, airlines, hotels, car rentals, or any other means earn rewards.
It is also useful in hospitals for bill payments, among other things.
The cardholders can also enjoy many more privileges, which are as follows:
If you buy movie tickets online, you can get a discount or buy one, get one free. It is provided every month for tickets worth Rs. 250. It is also included in the Entertainment Allowance.
It has also provided spa and wellness packages and discounts throughout India. It is counted inSpa Allowance.
It has also provided discounts ranging from 30% to 50% on ayurvedic packages. Kairali Allowance is how it is calculated.
It has also granted golf privileges and transactions worth Rs. 1 million or more, but only for one month. It is countedas aGolf Allowance.
This card also includes a slew of additional benefits.
The following services are also rendered by it:
Hotel Bookings
Restaurant Bookings
Flight Bookings
Car Rental
Medical Services
Emergency Services
Rubyx Visa Credit Card Charges:
| | |
| --- | --- |
| Charges | Amount |
| Annual Fees | 1st year: NIL From the second year:Rs. 2000 |
| Joining Fees | Rs.3000 |
| Add-on card: annual fees | NIL |
| Overdue Interest on Extended Credit | Monthly: 3.40% Annually: 40.80% |
| The interest rate for cash advances | Monthly: 3.40% Annually: 40.80% |
| Interest rate (calculated on the total amount owed) | 1.25% to 3.50% per month. |
| Interest-free period | 18 to 48 days. |
| Transaction fee—cash advance | 2.5% of the advance amount, or a minimum of Rs. 300. |
| Dial a draught for a transaction fee | 3% of the draught amount, or a minimum of Rs. 300. |
| Check return or auto debit return fee | 2% of the total amount due, or a minimum of Rs. 250. |
| Request for duplicate statements | Rs.100 |
| Fee for card replacement | Rs. 100 |
| Fee for exceeding the limit | 2.5% of the over-limit amount or a minimum of Rs. 500 |
| | |
| --- | --- |
| Total amount due | Charges for late payments |
| Less than 100 rupees | NIL |
| From Rs. 100 to Rs. 500 | Rs. 100 |
| From Rs. 500 to Rs. 10000 | Rs. 500 |
| From Rs. 10000 to Rs. 20000 | Rs. 600 |
| Above Rs. 20000 | Rs. 700 |
ICICI Rubyx Credit Card Documents Required
Identity Proof – Any of these documents: Aadhar Card, Voters Id, PAN Card, Driving License, Passport, etc.
Address Proof – Aadhar Card, Ration Card, Utility Bills, PAN Card, Passport, Driving License.
Proof of Income – Latest salary slips, Latest bank statement, Form 16.
How To Apply For ICICI Rubyx Credit Card?
The ICICI Bank helps you with several online as well as offline ways to apply for the ICICI Rubyx Credit Card. One can simply visit your nearest branch and fill in the physical application form to apply for the card. If someone wants to apply online, just follow a few simple steps as mentioned below:
Visit official website of the ICICI bank.
On the home screen, you will get an option 'Cards.'
Visit Cards section and click on 'credit cards.'
Scroll down and you will see the Rubyx Credit Card.
Click on 'Get Card.'
You will be redirected to an online application form.
Fill in all the required details and complete documentation.
How To Check ICICI Rubyx Credit Card Application Status?
One of the easiest ways to check your credit card application status is to contact customer care and ask them about the same. The representatives would ask you for a few details like your name, application number, etc, and will give you all the required information.
ICICI Bank also has a different webpage that provides its customers with the facility to track their application status. One can just visit their official webpage, enter the required details and you will get your credit card application status in seconds.
If one don't prefer online methods, One can simply visit the branch and ask the bank executives about your credit card application status. However, the other two methods are way faster and easier than this one.
ICICI Rubyx Credit Card Activation & PIN Generation
The following are the different ways to generate the PIN of your ICICI Rubyx Credit Card after you receive the card from the bank:
Visit the ICICI Bank's official website and sign up for internet banking. Add your card and you will easily find the option to generate your credit card PIN.
one can activate your credit card via ATM. Visit your nearest ATM and search for the option 'create/generate a new PIN' from the Main Menu.
The mobile app of the ICICI Bank, iMobile app, gives you another easy way to activate your credit card. Log in to the app, add the card and find an option to generate the PIN.
If one don't find any of the above methods suitable, you can contact ICICI Bank's credit card customer care and they will assist you on how you can activate your credit card.
So there you have it: some information and fascinating facts about the Rubyx Visa credit card. If there are any errors or mistakes in this article, then please let me know.