HDFC Bharat Credit Card Review 2023:
In childhood, when we were children, our mother used to give us the remaining money as a reward for bringing things from the market so that we could buy something for ourselves.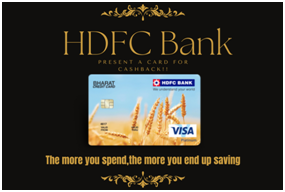 Today's market also gives many types of offers to woo its customers. And if you are a cashback lover, then you are at the right place. So let's know all the features of this card and its attractive offers very well.
HDFC Bank Bharat Credit Card:-
HDFC Bank's Bharat credit card fulfils all your wishes of just that cashback. Where the offer of cashback on a small recharge makes us so happy, think how many benefits we will get by shopping with Bharat Credit Card.
| | |
| --- | --- |
| Charges | Amount |
| Full name | HDFC Bharat cashback credit card |
| Special for | Cashback offer |
| Joining fees | ₹500 |
| Renewal/annual Fee | ₹500 |
| Interest rate | 3.49% per month |
| Advance cash limit | 40% of credit limit |
| Issue of lost or damage card | ₹100 |
Bharat Credit Card Benefits:-
HDFC Bank with the philosophy of "the more you spend, the more you and up saving" offers its customers a host of benefits be it cash back, insurance or discounts.
A.Cashback offer:-
5% monthly cashback on

Booking tickets through IRCTC,

Bill payments and mobile recharge through cards and,

Spends on payZapp, EasyEMI, Smart Buy etc.
B.Insurance benefits:-
Bharat Credit Cards give us many advantages in the field of insurance. If you make a transaction of ₹ 100 or above 4 times every month, then you will get two main benefits of insurance.
Insurance above 50 lakh as Accidental Death Insurance.
Insurance covers up to 2 lakh against loss of goods due to damage caused by burglary or fire.
C. Enjoy special benefits of waiver:-
a 1% fuel surcharge will be available when we use this credit card for transactions. But keep in mind that for the benefit of this offer, we will have to spend at least 400 first.
D. Renewal/ Annual Fees waiver:-
Next year's renewal fee will be waived on an annual expenditure of at least Rs 50,000
HDFC Bharat Credit Card Advantages and disadvantage:-
| | |
| --- | --- |
| Benefits | Details |
| Welcome benefits | NA |
| Dining and movie | NA |
| International transaction | Yes |
| Travel | 5% on railway ticket booking through IRCTC |
| Golf | NA |
| International Lounge access | NA |
| Insurance benefits | Up to 50 lacs accidental death cover |
| Foreign currency markup | 3.5% on conversion amount |
HDFC Bharat Credit Card Fees and charges with other cards:-
| | |
| --- | --- |
| Credit card | Annual fees |
| Flipkart Axis Bank credit card | 500 |
| HSBC cashback credit card | 750 |
| HDFC Bharat credit card | 500 |
| Axis Bank ACE credit card | 500 |
| Kotak Delight Platinum credit card | 1999 |
HDFC Bharat Credit Card Eligibility for Credit Card:-
Certain eligibility is very important if you want to apply for a credit card.Here we are telling you the eligibility of both salaried and self-employed.
| | | |
| --- | --- | --- |
| Criteria | Salary | Self employed |
| Minimum age | 21 | 21 |
| Maximum age | 60 | 60 |
| Income | More than 12,000 per month | Income tax return higher than 2 lakh per annum. |
Documentation for HDFC Bharat Credit Card:-
Required document for credit card :-
While you proceed, we request you to keep following details handy:-
1.Identification papers:-pan card, Aadhar card , passport and other documents.
2.Address papers:- Aadhar card, pan card ,electricity bill etc.
3.for income:- latest payslip and bank statement.
Apply for Bharat Credit Card:-
You can apply for this credit card in both ways offline as well as online.
A. If you want to apply offline, then you will have to contact the nearest branch of HDFC Bank.
👉👉Keep in mind that while going to the bank, take your necessary documents with you. Do not forget.
B.If you want to apply online, then for this visit the website of HDFC Bank and follow the instructions given below carefully.
Step 2:- Click on "borrow". Select the credit card from this section.
Step 3:-Search for Bharat Credit Card
Step 4 :- click on "Apply now" and apply as directed.
Reward redemption for HDFC Bharat Credit Card:-
HDFC Bharat Credit Card is an instant cashback card that lets you earn rewards and use those points to get discounts on your next purchases.
Now the question is, what should we do with these cashbacks and how can we use them and how can we connect them to savings?
We can withdraw Rewards Points directly as cashback. Using these points is very easy. When we buy something, just pay with this card and we can save by taking advantage of the cashback offer.
1 reward point = 1 rs
Frequently asked questions Bharat Credit Card:-
1. Should I get this Bharat Credit Card?
If you are new to the world of credit cards and have no materialistic desire other than household chores, then this card is for you.
2.What can I do if I have lost my card?
In case of loss or theft of your card, feel free to contact the Customer Service Centre. Once this is done, you will not be liable for any fraud or fraud against it.
3. What is the maximum cashback I can earn with this card?
Cashback up to Rs 150 on groceries, recharges, bill payments and fuel surcharge.
4. How to contact the customer service center of HDFC Bharat Credit Card?
Either you can visit the nearest branch of HDFC Bank or connect on toll-free number 1800-209-4006.
5.How much is GST on HDFC credit card?
18% GST amount on total bill.
HDFC Bharat Credit Card Review Conclusion:-
The HDFC Bharat Credit Card, brought out by HDFC Bank, is a cashback card that allows the customer to earn small cashbacks on a range of spends. It does not provide big facilities, but just like small coins stored in a piggy bank make us happy, similarly this small cashback of five percent encourages us for the next purchase.So if you want to pay grocery,phone recharge and other types of bills this card is for you.take advantage of it's small benefits and make your shopping fun. contact hdfc bank now and add this cashback to your boring shopping life. Make it fun.