Axis Bank Magnus Credit Card:
A card that is presented by Axis Bank with various names, attractive offers and a host of benefits. Yes, Axis bank has launched many credit cards, but if it is a matter of premium lifestyle, in which there are privileges like travel, flight facilities, food, and you want to enjoy them, then magnus credit card can be a great option. . Launched in 2019, this card has today emerged as a super premium credit card in 2023.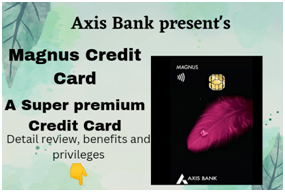 This is the most super premium credit card among private sector banks not only in India but all over the world. If you want to apply for this card, then keep reading further and pay special attention to the advantages, disadvantages and charges of this card.
Axis Bank Magnus Credit Card Benefits and privileges:
Are you fond of travelling? Do you like to travel by plane? It would be nice to eat out and do a lot of shopping and in this run-of-the-mill life, security is most important, so would you like insurance protection? So let us go through all the benefits one by one that compel you to consider this card.
Axis Bank Magnus Credit Card Air Travel and its Privileges:
1.Welcome/ Renewal offer:- One domestic economy flight ticket for free every year and a Tata Cliq voucher worth 10,000₹.
Enjoy this convenience with just a few easy steps.
Step 1:- Once the joining or renewal fee is submitted, you will get a message on your registered mobile number.
Step 2:- Contact the number given below and book your flight.
Contact on:- 1800 103 4962
Step 3:- The concierge will give you a unique code and transfer your call to the booking desk of Axis Bank.
Step 4 :- Now give this code to the booking desk and book your ticket by making a small transaction of Re 1 from your Magnus Credit Card.
Step 5 :- You will get an email as soon as the ticket is confirmed.
Some things to keep in mind :-
You can use this offer only when you have deposited your joining or renewal fee.
You can book within 6 months of receiving the SMS.
Book at least 10 days in advance of travel.
A discount of at least 10,000 will be available.
2.Unlimited use of the domestic lounge:- Free lounge access at any airport in India.
If you have a Magnus Credit Card, you can avail this offer with a transaction of just ₹25. Don't worry, you will get the money back in your account within 24 hours. But to avail this benefit, you have to make a small transaction of ₹ 25 from your credit card.
3.Take advantage of VIP facilities:- Enjoy 8 complimentary VIP support services (check-in, security check, immigration procedures and porter service assistance) at airports in India.
Step 1 👉To avail this offer, visit the page below and submit your request.
Step 2 👉You will receive a confirmation mail. In which you will be given important
information.
Some very important things about this offer:-
You can only avail 8 complimentary VIP assistant services.
You can transfer this service to any of your guests or partners.
To avail this service, make booking 48 hours in advance.
This service will give you the advantage of arrival and departure for both domestic and international travel.
This service is applicable at 29 Indian airports in India.
4.International Airport Access Service:- Enjoy 8 complimentary international lounge visits using your priority pass card.
Along with the credit card in the welcome kit, you will receive a Priority Pass membership card. Swipe your Priority Pass membership card if you want to avail this offer.
For more information visit:-
Hotel staying benefits:-
You can avail up to 15% off on room stays at Oberoi Hotel by swiping your Magnus credit card. For this, use this credit card while billing.
Book My Show benefits:-
Buy one and get ₹500 off on the next ticket.
Dining benefits:-
Enjoy over 20% off at 4000 restaurants in India.
Insurance and wellness benefits:-
You are eligible to avail the benefits of air accident, loss of card charges, purchase protection and all the insurance cover associated with them.
For this insurance protection offer, you have to approach the bank and submit the necessary documents to them.
Avail great discounts at select spas and salons.
Take advantage of the great benefits that come with it all SRL diagnostics, Dr. Lal PathLab and Metropolis.
Magnus credit card Fees and charges:
So let's know how much you will have to spend from your pocket to get this credit card so that you can take advantage of it?
| | |
| --- | --- |
| Details | Amounts |
| Best for | Travelling |
| Joining fees | 10,000+ GST |
| Annual/Renewal fees | 10,000+ GST |
| Interest rate | 3% per month |
| Foreign currency Markup | 2% + GST |
| Network | MasterCard and Visa credit card |
| Cash withdrawal charge | No |
| Fuel surcharge | 1%(all over India) |
How to apply for theAxis Bank Magnus Credit Card?:-
Now let us know how to apply for a card with so many benefits.
Online mode:-
Step 1:-Visit the official website of Axis Bank.
Step 2:- Click on 'Credit Card'.
You will be directed to a new page.
Step 3:- Click on 'Axis Bank Magnus Credit Card'.
Step 4:- Click on 'Apply Now'.
Step 5:- Enter the necessary details such as your name, state, city of residence, mobile number, your professional details, and your monthly income.
Step 6 :- Enter the code to proceed. Step 7 :- Click on 'Call Me'.
A representative from the bank will get in touch with you and will help you with the process of applying for Axis Bank Magnus Credit Card.
For offline mode:-
You can visit the nearest Axis Bank branch along with the necessary documents. A representative from the bank will help you with the process of applying for Axis Bank Magnus Credit Card.
Axis Bank Magnus Credit Card Eligibility and documentation:-
Let us know what should be the eligibility to get this credit card.
You are a citizen of India.
Your age should be between 18 years to 70 years.
Your annual income should be 18 lakh per annum and your annual tax return should be 18 lakhs.
Important documents required at the time of taking the card.
Pan card,
Pay Slip , Form 16 and income tax return statement.
Residence certificate:-
Driving Licence, Electricity bill and Water Bill.
Frequently asked questions about magnus credit card:-
1.Should I get this credit card?
-If your income is very good and you want to enjoy a privileged lifestyle with all the luxuries, then you can go for this card
2.Why is this credit card better than other cards?
-This credit card is the only card that gives rewards on spending Rs 1 lakh in a month, which no other card has been able to come close to till date.
3.Whom to contact for any problems or more information?
-Axis Bank provides you the facility of an assistant 24 hours a day, whom you can contact by calling or visiting the website.
4.What is a Priority Pass Membership Card?
-With Magnus Credit Card you will get a card which helps you to enjoy VIP facilities. You can find more details on their website. www.prioritypass.com