Super Value Titanium Credit Card
Standard Chartered credit cards are less suggested for its low reward rate points as compared to other available cards but this card is exceptional to the rest when it comes to its offering of best fuel cash back benefits.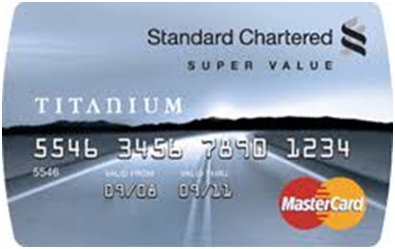 The Standard Chartered Super Value Titanium Credit Card is well renowned for its benefit on fuel and bill payments, also the annual or joining fees both of it are free for premium banking customers , but apart from it others have to pay a annual charge of Rs.750/-. One of the most attractive features is its Priority Pass Membership using which Premium banking customers will surely enjoy access to more than 1,000 airport lounges.
 Super Value Titanium Credit Card Benefits:
Get 5% Cash back on Fuel.
Get 5% Cash back on Phone bills.
Get 5% Cash back on Utility Bills.
Top Highlights of Super Value Titanium Credit Card
| | |
| --- | --- |
| Card Type | Entry-level card |
| Best suited for | Fuel and Bill payments |
| First year annual Fee | Rs.750/- For premium banking customers this fee is nil. |
| Renewal Fee from Second year | Rs.750/- |
| Reward Point system | Rs.150/- = 1 point |
| Cashback on Fuel | Users are eligible for a 5% cash back on all fuel spends at all fuel stations up to Rs.200/-per month , where the max cash back is Rs.100/- per transaction . All transaction of Rs.2,000 or below are eligible for cash back. |
| Cashback on Phone Bills | 5% cash back on telephone bills, The minimum transaction amount is just Rs.750/- , where the maximum cash back amounts Rs.100/- per transactions, and you can receive a maximum cash back amount of Rs.200/- per month. |
| Cashback on Utility Bills | 5% cash back on paying the utility bills. The minimum transaction amount is just Rs.750/- , where the maximum cash back amounts Rs.100/- per transactions, and you can receive a maximum cash back amount of Rs.100/- per month. |
| Premium banking Customer benefit | All esteemed Premium banking customers enjoy complimentary super Value titanium credit card which comes along with a complimentary Priority pass membership, using which one can enjoy access to 1000 + airport lounges across the globe. |
| Add-on card Fee | Nil |
| Foreign markup currency | 3.5% on the conversion amount. |
| Interest rates | 1.99% per month (23.88% p.a ) |
| Cash advance afees | 3% on the transaction amount subject to the minimum amount of Rs.300/- |
| Zero Liability protection | Not available |
| Insurance benefit Coverage | Not available |
| Movie, dinning, Golf and other luxurious benefits | Not Available |
| Virtual Super Value Titanium Credit card | It is the online replication of the physical card with a unique card number, CVV and expiry date .Can be used instantly from anywhere in India or across the Globe, without the need of the physical card, where one can just store the virtual card details on their smart phones. After receiving the Original card, on can apply for the virtual card through some easy steps. |
Now, let us look at the note-worthy aspects of the card.
Supplementary Credit Card = Users can avail lifetime free supplementary credit card for their loved ones by extending the benefits of their own card to the supplementary credit card holder.
Contactless Credit Card = This contactless credit card ensures simple, safe, secure, freedom from cash, transaction.
Secure Online Transaction = All online transactions are supported by enhanced security through 3D OTP Verification.
Digital Payment Solutions = Standard Chartered comes up with wide range of instant payment solutions as UPI Payment Solutions, Bharat QR, Bharat bill payment solutions, IMPS, Samsung Pay.
Online Banking and SC Mobile = With the Online Banking Facility provided and the SC Mobile Application, users can check the card balance and make instant card payments , so now no waiting behind in long queues at the bank.
Balance on EMI= Users have the opportunity to convert the entire outstanding credit card balance of up to Rs.500,000/- into EMIs with zero processing fees charged by Standard Chartered bank.
Balance transfer = Transfer of other banks credit card balance of up to Rs.500000 at an interest rate of just 0.99% per month for the first 6 months.
Dial-a-loan = Cardholders are entitled for instant loans on their Standard Chartered Cards for up to Rs5,00,000/- ranging from 12 to 60 months starting at interest rate of 0.99% p.m.
360degree rewards= All the reward points can be redeemed using the 360 degree rewards program and availing all exciting vouchers, discounts and fabulous offers.
Kuch Bhi on EMI=All big spends above Rs.2000 /- can be converted to easy EMI with the Kuch Bhi on EMI feature through the online banking or SC Mobile App, along with attractive pricing and flexible tenure options.
No physical interaction required = Applicants can get approval instantaneously on their application by completing all KYC procedure online through video.
Super Value Titanium Credit Card Eligibility
. Must be an Indian citizen.
. Applicant's age must lie between the range of 21yrs to 65 yrs, and the Add-on applicant must be of 18 yrs of age.
. Can be a Salaried or a Self employed or a Businessperson with stable monthly income.
. Minimum monthly Income requirement of Rs.55, 000/- or more.
.Applicants should belong to credit card sourcing cities/locations of the Bank.
. All applications are subject to credit and other policy checks of the Bank.
. Applicants must be able to produce all necessary documents during time of application procedure.
Super Value Titanium Credit Card Documents needed
Once users get qualified for application, below are the given documents which are quintessential for further process.
. Documents needed for ID Proof = PAN card, Passport, Voter-id Card, Aadhaar Card, Driving License Etc required.
. Address Proof = Electricity, water, telephone bills or Aadhaar Card.
. Income Proof = Latest Copy of one month salary slip for Salaried professionals and credit card statement or business continuity proof or certified financials or Income tax returns for Self Employed Professionals.
. One recent Passport sized photograph of the applicant.
Other similar cards
| | | |
| --- | --- | --- |
| Card | Annual fee | Rewards point |
| SUPER VALUE TITANIUM CREDIT CARD | Rs.750/- | 1 Reward = Rs.150/- |
| HSBC VISA Platinum Credit card | Nil | Earn 3X Reward points on Hotel reservations ,dinning ,utility bills |
| ICICI Bank Coral Contactless Credit Card | Rs.500/- | Earning of 2 payback points on every rs.100/- spent |
| Standard Chartered platinum Rewards Credit card | Rs.250/- | Earn 5 Reward Points for every Rs.150/- spent at partner dinning restaurants. |