SBI Lifestyle Home Center Credit Card:
SBI offers its consumers the Lifestyle Home Center SBI Card, which has several savings and incredible offers, in collaboration with a few select retailers and SBI Bank.This card, a shopping credit card, was introduced by SBI with the intention of serving both online and offline shoppers.
Those that often shop at places like Lifestyle Home Centre, Maxx, and Spar stores are the target market for this card.
Three cards were introduced into the market by SBI Bank, which is more than one.
SBI Lifestyles Home Center Card,
SBI Lifestyles Home Center Card Select,
SBI Lifestyles Home Center Card Prime.
Purchasing discounts and transactions for movie dining come with a number of advantages. Read the article below attentively to learn more about this card, which offers hundreds of discounts, advantages, and other alluring packages.
SBI Credit Card benefits and privileges:-
Welcome benefits:-
After paying the membership fees, receive a welcome bonus of 6000 rewards points, which is equal to Rs. 1500.
Cashback benefits:-
You will gain 10 reward points for every 100 rupees you spend on well-known websites like Spar, Max, Lifestyle, and Home Centre.
You gain two reward points for every 100 rupees spent on retail purchases other than gasoline.
There are 4 reward points in a rupee.
We receive 5 Rewards Points for shopping at Landmark stores, whether we do it physically or online.
Milestone benefits:-
Spending Rs. 3 lakh or more annually can get you 12,000 or 34,400 reward points.
Renewal benefits:-
Within 30 days of paying the renewal cost, earn 6000 Rewards Points. The joining fee benefit and this benefit are the same.
Fuel surcharge waiver:-
You get a 1% discount on fuel purchases between ₹500 and ₹3000.
Converting facility:-
You can double your profit by changing your Rewards Points into Landmark Points.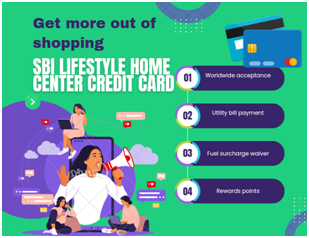 Utility bill payment facility:-
We may pay our everyday household costs, including our phone, mobile, and energy, with this card.
Worldwide acceptance:-
Lifestyle Home Center Card is well known throughout the world, not just in India. can be utilised in 3,25,000 stores in India and 24 million retailers worldwide.
The Lifestyle Card can be used at any store that takes Visa, it should be noted.
Fees and charges of lifestyles Home Center Credit Card:-
Now tell me, how much money out of your own pocket will you have to put towards getting this credit card so you may use it.
| | |
| --- | --- |
| Types of fees | Fees and charges |
| Joining Fees | 499+ taxes |
| Renewal Fees | 499 + taxes |
| Best for | Shopping |
| Domestic lounge access | 8 complimentary visits |
| Movies and dining | 10 rewards points |
| International lounge access | 4 Complimentary visits |
| Rewards redemption fees | 99 |
| Foreign currency markup | 3.5% |
| Interest rates | 3.50% p.m. |
| Insurance benefits | NA |
| Golf | NA |
Eligibility and documentation for SBI Credit Card:-
Let us know what should be the eligibility to get this credit card.
Take care of a few crucial details to obtain this credit card, which is quite simple.
You should be between the ages of 23 and 60.
The bank should be satisfied with your income.
Your credit score ought to be good—it ought to be higher than 650.
Documentation for credit card:-
I.Documents accepted as proof of identity:-
Aadhar card,
passport ,
PAN card,
voter ID card and others(Government document which has your photo)
II. Residence certificate:-
Driving Licence,
Electricity Bill and
Water Bill
III. Income certificate Eligibility:-
Employment status of 3 months,
Pay Slip,
Bank Details, andForm 16 and income tax return statement.
Applying Procedure for Credit Card:-
Visit the SBI branch that is closest to you, bringing the necessary paperwork and the application. You will receive assistance from a bank person as you complete the application for the SBI Bank Credit Card.
But if everything is done online, please let us know how to apply from home by following the simple steps.
Step 1:- Visit SBI Bank's official website.
Step 2 :- Provide the relevant information, such as your name, city of residence, email address, and phone number.
Step 3:- On your registered mobile number, you have just received an OTP.
Step 4 :- Enter the OTP, select "apply now," carefully complete the application form, and upload all of your supporting documentation
Frequently asked questions:-
1.Who should I contact if I have any issues or want more details?
-By visiting the bank's branch that is closest to you, you can explain your situation, and a representative can assist you. Alternatively, call the customer service line.
Call now – 1860 500 1290
1800 180 1290
2.Can we receive the advantages of golf with this card?
-No, there isn't a facility like that locally.
3.What is the SBI Bank's credit card limit for its cardholders?
-It depends on the cardholders' profiles. Your credit card account factors, including how well you are able to pay off current and prior obligations, how long you have had credit, your credit scores, and other crucial information The bank won't be able to give you your credit limit until then.
4.How do I use my card's reward points?
-We may easily redeem this point from our card by logging into our net banking account, going to the Rewards tab, and selecting Redeem Rewards. Then, decide which card to use, how to earn points, and which rewards you wish to claim.
5.How much will it cost if I misplace the card or require a replacement?
-It costs just 100 rupees to replace the card.
6.What steps must we take to use this card to pay our bills?
-By taking these basic actions, you can pay your bills in a very straightforward and uncomplicated method.
Enter your account by logging in.
Click "Summary Page Now" under the account.
Open a new tab and click the "pay now" option.
You can now choose the quantity category as you can see. Choose the right category.
You may now view the amount that has been taken from your account.
Conclusion :-
This card from SBI Bank comes with a number of features that are available to all customers. You just attentively read the lifestyle Home Center Credit Card review. Visit the bank's official website to check out additional SBI cards.
Hundreds of credit cards promise to meet client wants as they enter the market each day in the modern era; the question is which card is best for you. Hence, if you enjoy buying and prefer to do your purchasing online, come and use SBI's top-notch credit card once.