Bandhan Bank Credit Card Customer Care:
As a Bandhan Bank credit card holder, if you have any queries you can have them addressed by contacting their customer care centre. You can use any of the methods provided to get in touch with the bank.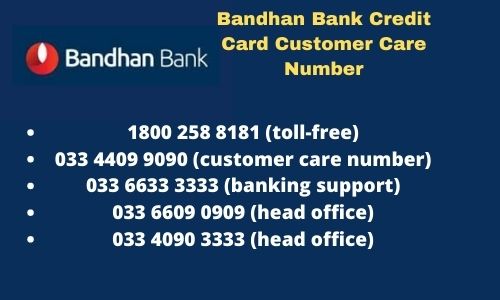 Bandhan Bank Credit Card Toll-Free and Tolled Numbers
To get in touch with Bandhan Bank's customer service centre, just call:
Bandhan Bank Cluster Head Contact Details (City-Wise)
Bandhan Bank Credit Card Enquiries
Almost every cardholder has some queries at some point or the other. Here are some common queries you may have along with how you can go about solving them.
In Case of Credit Card Theft:
If your credit card has been stolen or is lost, call customer care immediately to block it. This way you can prevent others from misusing your card.
In Case Your Card Has Been Blocked:
If your card has been blocked by mistake, contact the bank as soon as possible. In most cases, you will have to request for a replacement card.
Credit Card Customer Care By Bank
Bandhan Bank International Helpline Number
For any card-related information while overseas or if you are visiting India, please call:
+91 33 6633 3333 (tolled and for calls outside India)
1800 258 8181 (toll-free and within India)
Bandhan Bank Email Address Details
For all queries, concerns, and feedback, send an email to the bank's customer service. You can send the email to the following address:
Bandhan Bank Grievance Redressal
Bandhan Bank has a grievance redressal process to ensure customer satisfaction when it comes to resolving their concerns and complaints addressed. The process is as follows:
Step 1: Submit a complaint by calling the customer service helpline, by sending an email to customer care, by sending an email to the branch head of your city, or by visiting the bank. Alternatively, you can also fill in and submit the online complaint form.
Step 2: If you are not satisfied with the response you have received, you can escalate the concern to the nodal officer in charge.
Step 3: Approach the banking ombudsman for a resolution to your grievance.
Bandhan Bank Nodal Office Contact Details
If you aren't happy with the solution provided by the customer care centre and the branch head, you can approach the nodal officer. Here are the details:
Mr Nand Kumar Singh
Head – Banking Operations and Customer Service
Email: [email protected]
Phone: 033 66090909
Write to Bandhan Bank
If you wish to write your concern down, you can send the letter to:
DN 32
Sector V, Salt Lake City
Kolkata 700 091
You can also follow this bank of their social media channels (Facebook and Twitter) to get in touch with them or to have your queries addressed.
Remember, if your complaint hasn't been addressed satisfactorily, you can always approach the banking ombudsman for a fair resolution since the ombudsman is selected by the Reserve Bank of India.
FAQs on Bandhan Bank Credit Card Customer Care
How can I apply for a Bandhan Bank credit card?
You can apply for a Bandhan Bank credit card by visiting the nearest branch of the bank. You will be required to submit all the relevant documents along with the application form. You will then receive an application number post submission.
Can a minor apply for a Bandhan Bank credit card?
No, a minor cannot apply for a Bandhan Bank credit card.
What can be the reason behind my credit card application getting rejected?
There can be various reasons behind your application for a credit card getting rejected. One of them can be you submitting incomplete documents or the details on your application form not matching the ones mentioned on the documents submitted. If your credit score is low or if you do not meet the eligibility criteria then the bank may reject your credit card application.
When can I contact the bank's customer care number?
If you contact the toll-free customer care number, then you can avail the facility anytime as it is available 24×7. However, for contacting only the bank's customer care number, check the timings with the bank before availing the facility.
Will the credit card be delivered to my communication address?
Yes, the card will be delivered to the communication address provided by you. You can also opt to visit the bank's branch and receive your credit card.