YES FIRST BUSINESS CREDIT CARD:
Several credit cards from Yes Bank have been introduced to the market, each one offering a variety of features and incentives to appeal to different market segments.All cards offer a variety of advantages.One such credit card provided by Yes Bank, with thousands of features, is the Yes First Business Credit Card. This page is for you if you're particularly interested in deals. After the introduction of numerous credit cards so far, Yes Bank has now introduced two cards with the corporate world in mind.
YES FIRST BUSINESS CREDIT CARD.
YES PROSPERITY BUSINESS CREDIT CARD.
Fees and charges on first business credit card:-
| | |
| --- | --- |
| Details | Amounts |
| Joining fees | 999₹ |
| Annual /renewal fees | 999₹ |
| Interest rate | 3.50%per month |
| Foreign currency markup | 1.75% |
Eligibility criteria for Yes first business credit card:-
If you want to apply for a yes first business credit card,
you must be between the ages of 21 and 65.
You must be an independent contractor, a business owner, or a participant in a partnership.
You must file a minimum 10 lac tax return.
Documentation for first business credit card:-
The paperwork needed to apply for its credit card:-
1.Proof of address (any one of these)
Aadhaar card,

and voter identification card.
2. Identity proof (any one of these)
3.Both salaried employees and independent contractors have different income certificates.
| | |
| --- | --- |
| Income proof for | Documentation |
| Salaried employees | Recent pay slip last six month bank statement |
| Self employed | Recent ITR audit profit and loss statement and balance sheet |
How to apply for Yes first business credit card?
You can fill out an application form in person at a bank branch to apply for the YES Bank Business credit card. As described below, you can also apply for the card online.
Step 1:-Visit YES Bank's official website.
yesbank.in
Step 2:-Choose "Business Banking."
Step 3:-Choose "Cards."
Step 4:-The YES First Business Credit Card should be chosen
Annual renewal benefit:- 20,000 rewards points
Earn 20,000 reward points following your first purchase within 30 days when paying the 4999 annual charge.
Annual bonus reward points:- 20,000 rewards points
On annual spending of 12 lacs or more, receive 20,000 reward points.
Every time your card is renewed, you will receive 15000 bonus points.
Domestic Lounge access:- 2 complimentary lounge
Each Cardholder is entitled to 2 domestic trips in a lounge every three months (over 30 in India).
International Lounge access:- 6 complimentary lounge
Access to 6 international trips per calendar year via priority pass membership
Golf access benefits: 1 complimentary lesson
Holders of the First Business Credit Card are exempt from the green charge. Each calendar year, one golf course instruction is offered. enjoying yourself
Insurance benefits:-
Holders of this benefit are eligible for life insurance coverage up to one crore.
Amount of 5 lakh – death of primary cardholders via accident.
Amount of 25 lakh – medical emergencies while vacationing overseas.
1 crore insurance on a plane crash-related death.
YES Paynow:-
When you signed up for "YES Paynow," you received 1000 reward points.
Rewards points redemption:-
With the Yes First Business Credit Card, we receive 2X reward points for purchases made in the airline, hotel, timing, rental car, and travel services categories.
200 rupees equals 16 Rewards points.
The reward points are INR 200=8 reward points aside from the chosen category.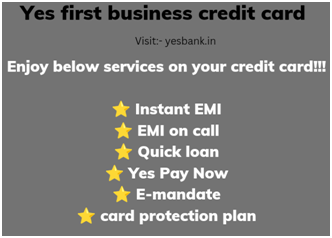 YES ASSIST:-
You will receive dedicated concierge services when you use this card. Your hotel and travel reservations, restaurant reservations, movie ticket purchases, and flower and gift deliveries will all be assisted by this devoted crew.
Automobile Assistance:-
Together with roadside assistance and emergency towing services, this card offers 24/7 access to both.
AWFIS Benefits:-
This attribute lowers the cost of office space rental. Get up to two hours of meeting space for free each calendar quarter at specific AWFIS Centers in India.
Get 15% off cabin, fixed, and flexi workstations as well as 20% off meeting room reservations at AWIFIS Centers.
Fuel surcharge waiver:- 1%
Use the gasoline fee waiver offered at all Indian fuel outlets for purchases between Rs. 400 and Rs. 5,000 to reduce your fuel expenses.
Card protection Plan:-
With the Card Protection Plan, you may protect your credit card. You are safeguarded by this function in the event of card loss, theft, or fraud.
Foreign currency markup:-
This credit card has a foreign currency mark-up fee of just 1.75%, which is rather cheap compared to other fees. In addition, there is a 3.5% monthly interest charge for revolving credit, cash advances, and past due amounts.
Payment methods for first business credit card:-
To make an online payment with a Yes Bank credit card, use the Yes Bank mobile application.
For on-time payments, consider using the ATM Money transfer option.
You can pay the credit card payments from another bank with the use of National Electronic Money Transfer.
Using the standing instructions, pay the YES First Business Card dues.
Use the IFSC Code YESB0CMSNOC when making a NEFT payment.
Cash and checks are also accepted forms of payment at YES Bank.
Frequently asked questions:-
1.Can the secondary cardholder access the free lounge facility?
The only person who can use the free lounge access is the principal cardholder. For extra visitors, a US$27 lounge admission fee will be applied.
2.Can I turn a purchase made with my YES First Business Credit Card into an EMI?
You can change a transaction into an EMI without paying any processing fees. For additional information, please contact YES Bank.
3.What is the credit card's waiver of fuel surcharges maximum?
With your YES Bank FIRST BUSINESS Credit Card, you can get a maximum of Rs. 1,000 in waivers per statement cycle. And take note that only the gasoline fee is exempt, not the GST that would have been charged in addition.
4.Can you make contactless purchases with this credit card?
The YES FIRST BUSINESS Credit Card is compatible with contactless payments, making it possible to make quick, simple, and safe purchases from merchants that support such transactions. According to the most recent RBI guidelines, 5,000 rupees is the upper limit for contactless purchases.
Conclusion:-
For self-employed people searching for travel advantages, the YES FIRST BUSINESS Credit Card is a wonderful choice. The card matches up to some of the perks often provided by premium credit cards for a minimal joining and yearly charge of Rs. 999. Access to domestic and international airport lounges is one of them, as is a low foreign exchange markup fee.