SBI SHAURYA CREDIT CARD REVIEW
"Sleep peacefully at your homes, Indian Army is guarding the frontiers".
The aforesaid quote is an actuality that bounds each of the citizens of India to show homage and gratitude towards the well conscientious India Armed forces.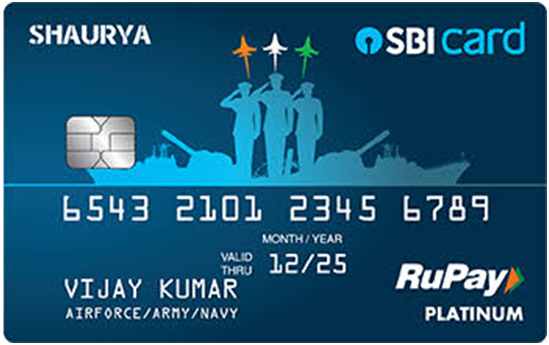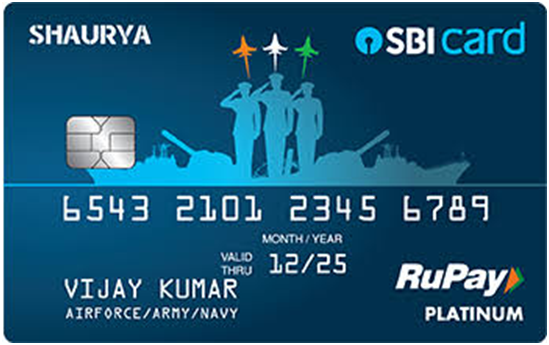 Prompted with similar intentions, India's largest multinational, public sector bank, the State Bank of India took the initiative to issue a special type of credit card, the Shaurya SBI Credit Card designed solely for the Armed forces personnel.
So, let's have a concise view on the main features, benefits and rewards the card has to offer.
Eligibility for SBI SHAURYA CREDIT CARD
The applicant must be an Indian defense personnel be it of an Air force, Army, Navy or Paramilitary insignia.
Should be in the age bracket of 21-65 years.
Should own a stable source of income.
Must be able to produce the following documents as a proof of their identity, address and income.
Pan card, Aadhaar card, Voter id, Passport, Driving License, Ration card (any one as a proof of identity and address).
Latest salary slip along with last 3 month bank statement.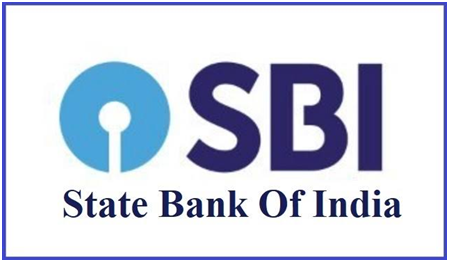 SBI SHAURYA CREDIT CARD FEATURES
Joining fee= Rs 250/-
Renewal fee( p.a)= Rs 250/- ( from second year onwards )
— This renewal fee can be waived off if the annual spend done is Rs 50,000 or more.
Finance charges = 3.55 p.m , 42% p.a
Late payment fee = Rs 0—Rs 500/- = Nil
Rs 500/- -Rs 1000/-= Rs 400/-
Rs 1000/- – Rs 10,000/- =Rs 750/-
Rs 10,000/- – Rs 25,000/- = Rs 950/-
Rs 25,000/- – Rs 50,000/- = Rs 11, 00/-
Rs 50,000/- or above = Rs 1300/-
Card Replacement fee = Rs 100/-
Foreign currency markup = 3.5% on all foreign currency spends (Hence this card can be used in foreign transaction where mark-up fee will be applied on all those transactions).
Cash advance fee = 2.5% of the transaction amount.
(Minimum amount = Rs 300/-)
Over limit fee = 2.5% of the amount. (Minimum amount of Rs 500/-).
 SBI SHAURYA CREDIT CARD BENEFITS :
One can use the card to pay electricity; telephone, mobile, and other utility bill using the Easy bill pay facility.
1% Fuel surcharge Waiver at all fuel stations across India.(Purchasing of fuel worth Rs 500 – Rs 3000 must be done to avail this offer)
Complimentary Personal accidental Insurance cover of Rs.2 Lakh (provided by RUPAY).
Welcome gift = On payment of joining fees of Rs.250/- , users will get 1000 Reward points which will be credited to them within 15 days of joining.
Reward points= 5x reward points to be given on dinning, movies, departmental store and grocery spends. (Where 1 Reward point is earned on Rs 100/- spent on different categories.)
Users can avail a lower rate of interest and payback in EMIs by just transferring the outstanding balance of other banks credit card to their Shaurya SBI card.
How To Apply For SBI Shaurya Select Credit Card?
One can apply for the SBI Shaurya Select Card online as well as offline at your convenience. If one prefers offline methods, you can simply visit your nearest SBI branch with all the required documents and fill in the physical application form there.
If one wants to apply online from the comfort of your home via the SBI Card's official website or by calling the SBI card customer care.
Shaurya SBI Card Conclusion
The Shaurya SBI Card is exclusively made for Indian defense personnel, i.e, for people who are serving in Army, Navy, Airforce, Paramilitary, etc.This card is embossed with the name of the branch of your service and hence is a matter of pride for individuals who get this card.
Along with providing regular rewards on all your spends, the card gets you accelerated Reward Points on selected categories like groceries, dining, movies, etc, so one can save more every time no matter if you are purchasing something for your home, going out for movies, or shopping, or anything.
Some card issuers also offer such credit cards targeted at defense personnel, like the Axis Bank Pride Signature Credit Card, PNB Rakshak RuPay Select Credit Card, etc. However, the SBI Shaurya Select Card has its own unique features and hence you must definitely consider applying for it if you are an eligible customer.